A Dallas Premier Harpist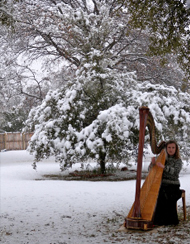 Harp Music Playlist
Laurel is well versed in an extensive amount of music choices for every occasion. If you're in need of specific songs, please contact her today, and she will do her best to accommodate you. Laurel is happy to provide consultations at her home, where she can play pieces for you in person. If you would like music chosen for you, she is adept at finding the right music for the occasion. The harp also sounds beautiful with other instruments such as the flute, cello or violin and provides an elegant alternative to string quartets.
Special Occasion Music
Laurel invites you to check back often for newly recorded tracks. She has provided you with favorite music from such genres as religious, wedding, classical, popular (musicals, movie themes, love songs), Christmas, Irish and Jewish. Enjoy your visit! If you have any further questions, please
contact
Laurel today.
CLASSICAL

Air on the G String – J.S. Bach
Barcarolle – Offenbach (harp, flute & cello)
First Arabesque – Debussy
Moonlight Sonata – Beethoven
Prelude in C – J.S. Bach
Reverie – Debussy
Rhapsody on a Theme of Paganini – Rachmaninoff
The Swan – Saint-Saen
Three Gymnopedies – Satie
To a Wild Rose – MacDowell
Traumerei – Schumann

WEDDING

Air from WATER MUSIC SUITE – Handel
Allegretto from SPRING – Vivaldi
Bridal March - Cain
Dodi Li
Hornpipe from WATER MUSIC SUITE – Handel
Largo from XERXES – Handel
Rondeau – Mouret
Siman Tov
Trumpet Tune – Purcell

POPULAR

Angel
Bless the Broken Road
Bubbly
Clocks
Destiny
Everything
From This Moment
Heaven
I Hope You Dance
I Swear
I Will Always Love You
I'm Yours
Love Story
Nothing Else Matters
Only Time
Paparazzi
Stairway to Heaven
Wonderful Tonight

DISNEY

Beauty and the Beast
Can You Feel the Love Tonight
Colors of the Wind
Under the Sea
When You Wish Upon a Star
A Whole New World

LATIN

Besame Mucho
Cielito Lindo
La Cumparsita
The Girl from Ipanema
Guantanamera
La Paloma
Sabor a Mi
Somos Novios

SACRED

Be Thou My Vision
Blessed Assurance
El Shaddai
The Gift of Love
Great Is Thy Faithfulness
Holy, Holy, Holy
How Beautiful
How Great Thou Art
In This Very Room
It Is Well
Jesus Loves Me
The Lord's Prayer
Old Rugged Cross
On Eagles' Wings
Panis Angelicus
Pie Jesu – Lloyd Weber
The Prayer
Prayer of St. Francis
What a Friend We Have In Jesus
You Raise Me Up

STANDARDS

Anniversary Song
As Time Goes By
At Last
Autumn Leaves
Crazy
Fly Me to the Moon
I Left My Heart in San Francisco
I Love You for Sentimental Reasons
I'm Always Chasing Rainbows
It Had To Be You
Love Is Here To Stay
Smoke Gets In Your Eyes
Someone to Watch Over Me
Stardust
Unchained Melody
Unforgettable
The Way You Look Tonight
What a Wonderful World

BEATLES

All You Need Is Love
And I Love Her
Eight Days a Week
Eleanor Rigby
Here, There, and Everywhere
Hey Jude
If I Fell In Love With You
In My Life
Yesterday

MOVIES

Days of Wine and Roses
Ebb Tide
Love Is a Many-Splendored Thing
Theme from LOVE STORY
My Heart Will Go On
Over the Rainbow
The Rose
Somewhere In Time
Somewhere My Love
Speak Softly Love
Through the Eyes of Love
The Way We Were
The Wind Beneath My Wings

SHOW TUNES

All I Ask of You
Bring Him Home
Don't Cry for Me Argentina
Edelweiss
I Dreamed a Dream
If I Loved You
I'll Cover You
Love Changes Everything
Memory
Send In the Clowns
Somewhere
The Sound of Music
Sunrise, Sunset
Till There Was You

JEWISH

Erev Ba
Hana-Ava Babanot
Hava Nagila
Hine Ma Tov
Jerusalem of Gold
La Rosa Enflorece
My Yiddishe Momme
Od Yishama
Raisins and Almonds
Tum Balalaika

CELTIC

The Ash Grove
Banish Misfortune
Brian Boru's March
Carrickfergus
The Castle of Dromore
Cockles and Mussels
Comin' Thro' the Rye
Danny Boy
Eleanor Plunkett
Fanny Power
The Foggy Dew
O'Carolan's Dream
The Spanish Lady
The Star of the Country Down

BOLLYWOOD

Chalo Tumko Lekar Chale
Chandi O Meri Chandi
Ek Ladki Ko Dekha
Kuch Na Kaho
Mehndi Laga Ke Rakhna
Mere Rang Mein
Na Tum Jano Na Hum
Raat Ki Hatheli Par
Call 214.328.6300
or
contact us online
.
Serving the Dallas–Fort Worth Metroplex including in and around Dallas, Fort Worth, Plano, Arlington, McKinney, Frisco, Denton, Allen, Colleyville, Coppell, Garland, Grapevine, Keller, Richardson, Rockwall, Southlake & Rowlett, Texas.